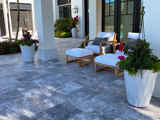 Go beyond "stuff" and create the way of life you deserve!

Michael Carr Designs has spent years learning from our customers; what you like, how you feel and what you do. We admire the journey and know no matter who you are or where you come from, each story comes with its own peaks and valleys. Through the years, Michael Carr Designs has used those experiences to develop into the brand you know and cherish today.
Our mission is simple, be the epitome of style. We build an extension of your home and create an outdoor space that lends itself to years of love and life.
From the beginning, Michael Carr Designs has been dedicated to developing a strong foundation. To us, it's important that our name stands for high-quality, long-lasting materials that are paired with exceptional style.
We design collections with your family in mind; from our Gnomes that resemble Grandpa Garrold to our Lily Leaf Planters that highlight your mom's favorite flower. Put your personal touch on your outdoor space and add a subtle piece that makes you smile or a statement piece that will have your neighbors in awe. Whatever your style, Michael Carr Designs is here to help make home feel like home.