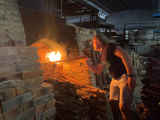 As his passion grew, he was blessed with an opportunity to help build a business from the ground up. Michael had a friend who had just purchased a Mexican pottery business and asked Michael to join him in establishing the new venture. His first thought was this is the perfect opportunity to use his business degree and incorporate his love of gardening but "I don't know a thing about the pottery business!"
All things considered you better believe Michael was not going to pass the chance up, so in normal fashion, he jumped right in with both feet. His family packed up and moved right outside of Guadalajara, Mexico. He spent every waking moment learning about design, manufacturing, shipping, and selling the pottery. Within a year, the business sold for profit and the started the next one up. This happened about 3 times before Michael decided to create his own company.
Now introducing Michael Carr Designs. When announcing his new project to one of his friends in the garden business, this friend replied to Michael that he needed another pottery dealer like he needed a hole in his head. That was a tough statement to hear, but it made a big impact in shaping his business strategy. He decided if he was going to be successful in this industry, he had to be different and unique with a name for high quality.
Michael spent years sourcing the highest quality materials at reasonable prices. He was, and is to this day, personally involved in each segment of the business to keep costs down but to also ensure the highest quality and standards are met. Every part of the journey has been influential in making Michael Carr Designs what it is today.
"If I was going to be successful in this industry, I had to be different and unique with a name for high quality."
Family Brand of BFG Supply
Founded in 1972, BFG Supply has a long history of serving the Green Industry including professional growers, lawn & garden centers, landscapers, and indoor growing stores. As an established industry leader, BFG provides the highest levels of customer service, the broadest product range, and innovative technology solutions. BFG is a true single source supplier for all of your Green Industry needs from pottery, watering tools and control solutions to multi-acre fully integrated professional greenhouse structures.